Are you like one of the millions of people pondering the answer to 'what is hypervisor-based replication and how will it change my disaster recovery approach'? I know I was.

So, let me help you with that!

Our technology experts here at Eze Castle Integration spent some time in the lab testing and evaluating hypervisor-based replication and recently incorporated it into our Eze Disaster Recovery 2.0 offering. We think it delivers excellent benefits, but let's start with the basics.
What is hypervisor-based replication?
TechTarget defines hypervisor-based replication as "a technology that automatically creates and maintains replicas of virtual hard disks or entire virtual machines (depending on the platform that is being used)." Analyst firm IDC goes on to say that this replication approach "protects virtual machines (VMs) at the virtual machine disk format file level rather than at the LUN or storage volume level, thus replication can be done without the management and TCO challenges associated with array-based replication."

Categorized under: Disaster Recovery Cloud Computing Infrastructure Business Continuity Planning Software Trends We're Seeing
Like David bravely dueling with the larger Goliath, small and mid-sized investment firms are often faced with insurmountable odds when competing against larger (and better endowed) funds. With more experience and more assets, larger firms have the advantage when it comes to soliciting investor allocations. But do these inherent shortcomings equal certain failure? If David can emerge victorious, can't smaller hedge funds?

Earlier this week, we gathered a panel of experts in San Francisco to discuss this topic at length. Following is a brief synopsis of the topics they covered.
Categorized under: Hedge Fund Operations Cloud Computing Outsourcing Launching A Hedge Fund Infrastructure Real Estate Trends We're Seeing
You may have heard of it – the newest social media app that's sweeping the 18-25 year old demographic – Snapchat. But what is it, and how could the technology behind it affect the business world?

Snapchat is a photo messaging application in which users can take photos or record short videos on their smartphones, then add text or drawing and send them to select contacts. When sending the content, users have the ability to set a time limit for how long the recipients can view it (up to 10 seconds), after which the photo or video will disappear from the recipient's device.

Here's a recent Snapchat ad that depicts how the app is used:
Categorized under: Security Software Trends We're Seeing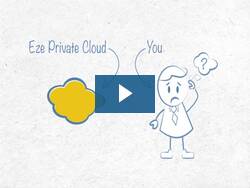 Cloud computing is becoming a standard IT deployment method for the investment management industry. In fact, our 2012 survey found that 8 in 10 investment management firms are either currently or planning to use a cloud service. So once a hedge fund or alternative decides to go cloud the next question is "why go Eze Private Cloud?"

Well, we have the perfect answer to that, and you can have it in just 60-seconds. Watch our quick video and learn why Eze Private Cloud is the investment industry standard for cloud services.



Categorized under: Cloud Computing Eze Castle Milestones Infrastructure Launching A Hedge Fund Outsourcing Trends We're Seeing Videos And Infographics
On 19th March, the Eze Castle Integration team in London hosted their first-ever Hedge Fund Cloud Summit at the Prince Philip House.

Eze Castle Integration along with leading experts in the financial services industry - INDOS Financial Limited, Morgan Stanley Prime Brokerage, Bloomberg, Credit Suisse Prime Services, Lucidus Capital Partners LLP, Portman Square, LLP, eSentire, Global Relay, and Simmons & Simmons - came together to provide a half day educational seminar featuring a wealth of information on the cloud to over 100 hedge fund and alternative investments firms.
Categorized under: Cloud Computing Security Infrastructure Outsourcing Trends We're Seeing
Today, we're excited be hosting the 2013 London Hedge Fund Cloud Summit at the Prince Philip House in London. The event features a variety of industry experts participating in thought-provoking panel disccussions focused on the cloud adoption trends shaping the investment industry. Conversations will touch on everything from the differences between public and private clouds to cloud security and application hosting.

In honor of this event and to provide a visual to help encapsulate the many benefits that come from leveraging a private cloud, we have published a new infographic entitled "You Might be a Private Cloud User If…" Check it out to see the top 10 signs that you are likely a private cloud user. For more information and details on the 2013 London Hedge Fund Cloud Summit please visit the event page. Also, be sure to look out for a recap of the event here on the Hedge IT blog next week!
Categorized under: Cloud Computing Launching A Hedge Fund Hedge Fund Operations Hedge Fund Regulation Trends We're Seeing Videos And Infographics Eze Castle Milestones
Yesterday our VP of client technology, Steve Schoener, presented on a California Hedge Fund Association webinar about building an institutional infrastructure at today's hedge funds. A lofty topic (so consider this a basic primer), Steve focused on four key discussion areas, which we'll recap here. They were:
Investor Expectations of IT

On-premise & Cloud solutions: Which is right?

Security Risks & Best Practices

Disaster Recovery How-Tos
You can watch the 30-minute webinar now or keep reading below.
Categorized under: Infrastructure Cloud Computing Hedge Fund Operations Launching A Hedge Fund Outsourcing Security Trends We're Seeing
Last year, Eze Castle Integration expanded their award winning Eze Private Cloud services to Asia. The Eze Private Cloud is used by more than 2,000 hedge fund professionals worldwide to simplify operations, minimise upfront capital costs and gain a highly resilient, enterprise-grade IT infrastructure on par with billion-dollar funds.
I recently sat down with Serge Bukhar, Executive Director of International Operations at Eze Castle Integration, to talk about the hedge fund market in Asia, and the attitude and adoption of cloud computing.
What is the current state of the hedge fund industry in Asia?
Singapore and Hong Kong are the hedge fund capitals in Asia. We have seen a contrast between the status of large and small hedge funds in Asia. Many larger funds are struggling, with some shutting down, while smaller funds are increasingly doing well and delivering positive results to their investors. Both groups, however, are looking for ways to increase efficiencies and reduce costs.
Categorized under: Trends We're Seeing Cloud Computing
It's hard to believe it, but we have officially reached the 300th post here on the Hedge IT blog!

To commemorate this special occasion, we're bringing back the Hedge IT blog awards honoring the best articles, topics and trends from the past year as a way of saying "thanks" to all of our loyal readers. We look forward to continuing this tradition of sharing valuable, thought provoking content with you again this year. Here's to the next 100 posts!

Enjoy!
Categorized under: Eze Castle Milestones Trends We're Seeing
Here on the Hedge IT blog, we love to talk about the cloud. However, most of our discussions focus on the technology and operational considerations for investment firms. This week, we're taking a different approach and looking at the cloud from a business perspective. On Tuesday we explored the business case for moving to the cloud. Today, we're taking the CFO's point of view.

You're a hedge fund CFO. Your CTO has proposed moving the organization's IT infrastructure to the cloud using a third party service provider. What questions should you ask to gain a better understanding of the impact this change could have on your team and the firm at large?
Categorized under: Cloud Computing Hedge Fund Operations Infrastructure Outsourcing