We're thrilled to share that Eze Castle Integration has won the coveted awards for Best Cloud Infrastructure Provider and Best Cyber-Security Provider in the 2016 Waters Rankings. Vinod Paul, Managing Director of Eze Castle Integration, spoke with Dan DeFrancesco, Deputy Editor of Sell-Side Technology and Waters Technology about how Eze Castle Integration differentiates itself from other cloud and security providers.

Watch Vinod's video interview below or scroll down for some quick takeaways.


Categorized under: Cloud Computing Security Outsourcing Videos And Infographics Eze Castle Milestones
This week Opalesque Radio featured an interview with Bob Guilbert, managing director here at Eze Castle Integration, on addressing operational challenges facing hedge funds with cloud solutions.
The 9:30-minute podcast covers a range of topics. You can listen to the full podcast HERE, just jump to the sub-features that interest you most below.


Categorized under: Cloud Computing Launching A Hedge Fund Disaster Recovery Hedge Fund Operations Trends We're Seeing Videos And Infographics Eze Castle Milestones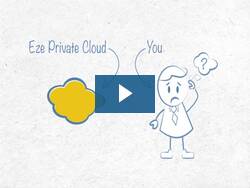 Cloud computing is becoming a standard IT deployment method for the investment management industry. In fact, our 2012 survey found that 8 in 10 investment management firms are either currently or planning to use a cloud service. So once a hedge fund or alternative decides to go cloud the next question is "why go Eze Private Cloud?"

Well, we have the perfect answer to that, and you can have it in just 60-seconds. Watch our quick video and learn why Eze Private Cloud is the investment industry standard for cloud services.



Categorized under: Cloud Computing Eze Castle Milestones Infrastructure Launching A Hedge Fund Outsourcing Trends We're Seeing Videos And Infographics
Today, we're excited be hosting the 2013 London Hedge Fund Cloud Summit at the Prince Philip House in London. The event features a variety of industry experts participating in thought-provoking panel disccussions focused on the cloud adoption trends shaping the investment industry. Conversations will touch on everything from the differences between public and private clouds to cloud security and application hosting.

In honor of this event and to provide a visual to help encapsulate the many benefits that come from leveraging a private cloud, we have published a new infographic entitled "You Might be a Private Cloud User If…" Check it out to see the top 10 signs that you are likely a private cloud user. For more information and details on the 2013 London Hedge Fund Cloud Summit please visit the event page. Also, be sure to look out for a recap of the event here on the Hedge IT blog next week!
Categorized under: Cloud Computing Launching A Hedge Fund Hedge Fund Operations Hedge Fund Regulation Trends We're Seeing Videos And Infographics Eze Castle Milestones
It's hard to believe it, but we have officially reached the 300th post here on the Hedge IT blog!

To commemorate this special occasion, we're bringing back the Hedge IT blog awards honoring the best articles, topics and trends from the past year as a way of saying "thanks" to all of our loyal readers. We look forward to continuing this tradition of sharing valuable, thought provoking content with you again this year. Here's to the next 100 posts!

Enjoy!
Categorized under: Eze Castle Milestones Trends We're Seeing
H
ave we mentioned we dig the cloud? Well we do and we are happy to introduce you to the newest addition to our cloud family – Eze App Cloud.

Weighing in at 60+ applications, Eze App Cloud comes to us from the Eze Private Cloud and is tailor made for application vendors servicing hedge fund and investment management firms.

The App Cloud has been a long time in the making and aims to address many challenges, including the need for a central, consolidated cloud platform to run all hedge fund applications and IT services. With adoption of cloud services growing, there are many disparate cloud platforms with varying degrees of quality and customization. We are increasingly seeing clients challenged to integrate applications (i.e. OMS, Risk, CRM) all running on different cloud platforms and networks. The cloud is supposed to simplify operations, not make them more difficult.

Eze App Cloud is prepared (and designed) to be the ONE cloud platform for everything a hedge fund needs.
Categorized under: Cloud Computing Outsourcing Launching A Hedge Fund Hedge Fund Operations Infrastructure Trends We're Seeing Eze Castle Milestones
Anytime I write a self-promotional (i.e. Eze Castle Integration-focused) article on Hedge IT I feel the need to add the caveat that we try really hard to make all our articles educational. However, sometimes pride gets in the way and we have to share with you our proudest accomplishments.

To that end, today's post is going to be focused on blowing our own horn about the award-winning streak the company has been on. These awards are a direct reflection of our amazing employees.

Proud moment #1: Winning the Help Desk Institute Team Excellence Award for External Support. This award recognized our world-class help desk organization for their outstanding client support. In winning this award, we joined a very elite group that includes Dell Perot Systems, EDS and Novell as previous winners. Anyone who has dialed into our help desk knows our team is truly deserving of this award.
Categorized under: Eze Castle Milestones
As any regular Hedge IT reader knows we are passionate about cloud computing and its use at hedge funds. We are also committed to being a constant source of information and education.
So…drumroll please… We are excited to unveil the newest member of the Eze Castle Integration thought leadership family – Cloud Forum!
On the Cloud Forum you will find rich information:
What is Cloud Computing

Cloud Architecture

Operating in the Cloud

Cloud Security

Cloud Computing Dictionary A-Z

Cloud Resources: Articles, Videos and Events
Categorized under: Cloud Computing Eze Castle Milestones Trends We're Seeing
On most days if you asked what I was doing on that exact day two years prior I wouldn't be able to tell you, but today is different. Today is the second birthday for Hedge IT, our sweet, informative blog. So I know exactly what I was doing two years ago – I was writing and posting our first Hedge IT article, aptly titled "Welcome to Hedge IT."
Sticking with the theme of 'welcome to…' and giving a node to our upcoming Hedge Fund Cloud Summit, today's post is a welcome to the changing world of IT – now that the business world is going to the cloud.
Paradigm shifts are commonplace in the IT world. When talking to an IT veteran about cloud, he/she will likely reflect on the move from centralized computing (mainframes/mini-computers) to decentralized computing (Windows NT/Novell) and now back to centralized computing with the cloud.
Categorized under: Cloud Computing Outsourcing Hedge Fund Operations Infrastructure Trends We're Seeing Eze Castle Milestones
Opalesque TV recently sat down with Vinod Paul (of Eze Castle Integration!) to discuss how cloud computing is altering the technology landscape in the hedge fund industry. The conversation covered a lot of ground including:
Public vs. Private vs. Hybrid Clouds

The Migration from Traditional IT to the Cloud

Impact of Reduced Costs in the Cloud

Real-world Examples of Cloud Utilization

Examining the Technology Environment for Startups

Scalability with the Cloud

Cloud Security Best Practices

The Future of the Cloud
Categorized under: Cloud Computing Launching A Hedge Fund Hedge Fund Operations Infrastructure Trends We're Seeing Eze Castle Milestones