I love a good Throwback Thursday, and for today's post, I want to throw it back to five years ago this month. It was April 2012, and we were hosting one of our biggest and most ambitious events: a Hedge Fund Cloud Summit. At the time, cloud computing was widely discussed and adoption was certainly growing, but there were still a number of lingering questions heard across the industry with regards to financial and business impacts of the cloud, effects on in-house IT staffs and, of course, security.

We still answer many questions related to these topics today, so I thought it might be fun to take a look back at the four panel topics we addressed back in the 2012 event and examine how much the conversation has really changed - or in some cases, how perhaps it's stayed the same.
Making the Business (and Financial) Case for the Cloud
For hedge fund COOs and CFOs, the business impact of a move to the cloud is still a critical consideration for established firms. But many of the myths and common questions that were prevalent back in 2012 are now pretty easy to explain. How do investors feel about the cloud? In 2017, investors are generally comfortable with the cloud if not in favor of it over legacy, on-premise IT infrastructure setups. Is the cloud really more cost-effective? This question was a long-standing 'myth' that's been debunked; for some firms, yes, costs may be lower depending on their previous infrastructure and personnel situation, but for all, the predictability of cost is what has become a primary driver for cloud adopters.
Categorized under: Cloud Computing Security Operational Due Diligence Outsourcing Launching A Hedge Fund Private Equity Hedge Fund Operations Infrastructure Trends We're Seeing
With the gravitation towards all things cloud, understanding the role a global network plays in all layers of connectivity is crucial, especialy for the financial sector where firms rely on low-latency and seamless access to counterparties across the globe.


So, as we often like to do here on the Hedge IT blog, we turned to the experts.

Mike Abbey is the vice president of network services here at Eze Castle Integration. He joined the company in 1999 and is currently responsible for ECINet, our global carrier class network platform. Mike also provides design consulting and best practice audits on fault tolerance and scalable optical, Ethernet, and IP-based networks, from single and multi-site domestic networks to multi-site, global deployments. He is a graduate of Binghamton University.

Q. Mike, what are you hearing from clients regarding networking and Internet services?
A. To be honest, most hedge fund managers don't have the time – and don't necessarily want – to grapple with the complicated intricacies of securing and maintaining an enterprise-class network or Internet service. That's where my team and I come in. We help simplify this process for our clients using Eze Castle's ECINet global private network.
Categorized under: Communications Cloud Computing Outsourcing Hedge Fund Operations Infrastructure
There's a lot to fear in the cyber world: rogue nation states, professional cyber criminals and would-be hacktivists, just to name a few. Their weapons of choice vary in scope and substance, but regardless of the threat actor, investment management firms must employ rigid and resilient protections to ward off the equally sophisticated cyber threats that continue to surface.
During a webinar earlier this year in which we detailed various levels of cybersecurity firms should consider, we asked our attendees to identify what they determined to be the most concerning cyber threat to their business.

Let's break down these numbers a bit and explain why these cyber threats are eliciting the most fear.
Unauthorized access or theft of data (31%)
Nearly a third of firms selected this as their biggest cybersecurity fear, making it the most common fear among our respondents – and we can understand why. There are a number of ways threat actors and hackers can gain entry into a firm's systems/network (we'll talk about those below), but ultimately, that unauthorized access/theft of the company's data or sensitive information is what could lead to its downfall. From malware threats to social engineering scams to denial of service attacks, threats that results in your firm's data and assets ending up in the wrong hands are a serious concern.
Categorized under: Security Private Equity Trends We're Seeing
When it comes to cybersecurity there are many factors that you need to be conscious of. During a recent webinar, speakers from Eze Castle Integration and Wolf & Company shared 10 of the most common cybersecurity gaps identified during an IT audit/risk assessment. We've listed the top 10 below and shared some particulars on a few of the most critical (in our opinion). For more detail on how these gaps are presenting themselves – and also best practices for avoiding them – click here to listen to the full webinar replay.
Top 10 IT Security Gaps
Risk Management and Governance

IT Asset Management

Vulnerability Assessments

Patch Management

Social Engineering & User Training

Business Continuity Planning

Multi-Factor Authentication

Third Party Vendor Management

User Provisioning and Management

Incident Response Planning/Procedures
Risk Management and Governance
Responsibility and accountability for risk management starts in-house – and at the top. Even for firms that rely on third party outsourced providers, it's imperative (and often overlooked) to establish governance controls and outline who internally maintains ownership of the firm's security posture – and more broadly, who owns the firm's risks.
Categorized under: Security Operational Due Diligence Outsourcing Private Equity Hedge Fund Operations Infrastructure Business Continuity Planning Trends We're Seeing Videos And Infographics
Do you remember the Nokia 3310? C'mon, you know which one I'm talking about. It was that indestructible T9 phone that was a must-have back in the 2000s. It was a huge seller primarily due to its long battery life and its durability (as a result of its unique casing). Now more than 17 years after its original debut, the Nokia 3310 is being relaunched. Set to release in Q2 of 2017 we're curious to see the hype behind this new, but old phone.

After scouring the Internet, here's a list of why we think some people are getting excited for the return of this 'old school' device.
Categorized under: Trends We're Seeing Communications
As April 18th (US) and April 30th (Canada) near, cyber scammers are pulling out all their tax scams to trick consumers and capitalize on the flurry of activity. Our friends over at Proofpoint say that "this year, [they have] tracked malware distribution in addition to the customary phishing schemes among the email threats related to federal taxes."

The IRS is also urging people to remember that "the IRS doesn't initiate contact with taxpayers by email, text messages or social media channels to request personal or financial information. In addition, IRS does not threaten taxpayers with lawsuits, imprisonment or other enforcement action."

So to help our clients stay vigilant, we're highlighting some recent phishing tricks and sharing phishing flags every employee should recognize.
IRS Phishing and Malware Scam Examples
Example 1: Malware Distribution
This first example centers on malware delivery and was identified by the Proofpoint researchers who analyzed numerous tax/IRS-related phishing emails. In this IRS phishing campaign, the recipient was asked to read the IRS Privacy Policy, which was attached to the email (hint: don't open unexpected attachments!). With this campaign, once the attachment was opened and the embedded macros where enabled, the macros downloaded malware (Dridex botnet ID 1105).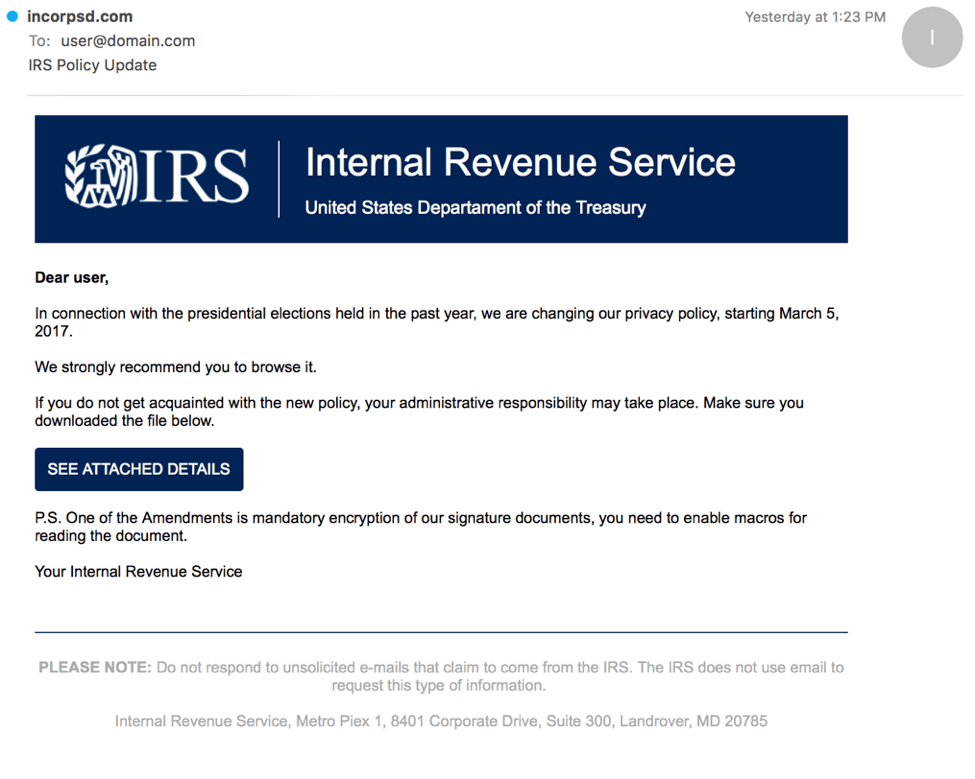 Categorized under: Security Operational Due Diligence Hedge Fund Operations Infrastructure Trends We're Seeing
This article first appeared on Hedgeweek and Private Equity Wire as part of Eze Castle Integration's Technology Resource Center.

Outsourcing has not only become an accepted practice among hedge fund managers, it has become a necessity as funds large and small seek out ways to control their costs, manage their internal resources more effectively, and overcome the ever growing challenge of regulatory compliance.


Perhaps more than ever before, hedge fund managers recognise that as cloud technology makes huge strides forward it makes more sense to focus on their core activities of investing and raising capital, appointing a trusted outsourced provider to manage the raft of non-core activities that investors do not want managers to be preoccupied with.

Indeed, while the thought of hosting IT offsite was once a worry for allocators, today's investors find comfort in knowing hedge fund and alternative investment firms are focusing on their investment priorities and leaving the technology decisions to the experts.

Mark Coriaty is Chief Strategy Officer at Eze Castle Integration. In his view, a firm's fee structure as well as the growing complexity of the back-office directly impact the extent to which managers choose to outsource and spend capital over time.

"Today the majority of our clients range anywhere from 20 to 200 users and most of these users sit in the front office; portfolio managers, analysts, traders, says Coriaty. Over time, the back office has had to grow due to the number of counterparties and regulatory obligations that managers have. The growth of counterparties and investor requirements coupled with increased compliance and regulations has introduced more complexity and risk into hedge fund options."

Hence outsourcing.
Categorized under: Outsourcing Security Hedge Fund Operations Trends We're Seeing
The technology treadmill is a tough place to be these days. Technology refresh cycles last only a mere three years, forcing firms to replace their infrastructures and make costly software and hardware upgrades on a too-frequent basis. And with hedge fund budgets tighter than ever, many firms cannot afford to stay on this path.


But the hedge fund technology treadmill is not a firm's only option. Costly in-house, 'traditional' IT services have given way to more cost-effective outsourced IT and managed services that get firms off the treadmill and on a path to success.

Let's have a look at some of the key reasons why hedge funds and other investment management firms are moving from on-premise technology infrastructures to cloud and managed services.
Keys factors driving hedge funds to managed services
Many firms are turning to managed IT services because it allows them to align their IT requirements with their business needs, including tighter control on budgets and staff. Moving to a managed service platform provided by a reputable outsourced IT provider not only makes it easier to deploy technologies, but also allows firms to benefit from platforms inherently designed to meet the constraints of limited IT resources and budgets.
Categorized under: Cloud Computing Security Outsourcing Infrastructure Trends We're Seeing
The following article originally appeared in HFMWeek's Cyber Compliance Focus.


It's not enough to have strong security policies. And it's not enough to have robust technologies in place to ward off cyber threats. In truth, it's not even enough to have both of these.

An effective cybersecurity program, rather, can only be achieved through a consistent and comprehensive strategy that touches layers across the entirety of the organization – from perimeter security and access control to policy enforcement and employee training. Without each of these building blocks, the effectiveness of a cyber risk management program is crippled at best.

And today's standards for cybersecurity are increasing rapidly.
Categorized under: Security Private Equity Hedge Fund Operations Hedge Fund Regulation Outsourcing Infrastructure Communications Trends We're Seeing
Traditionally, private equity firms have allocated significant capital budgets to build out their own sophisticated Communication (Comm.) Rooms, which can take months to provision and bring online. With servers to buy and install, software to license and configure, and voice/networks to deploy – not to mention recruiting, hiring, and managing expensive and hard-to-find IT talent – it's no wonder cloud solutions have emerged as the dominant choice for computing infrastructures at private equity firms large and small.

Not surprisingly, many firms – including those with well-established in-house infrastructures – are making the move to the cloud for a number of compelling reasons, most notably these five:
Timing. Understanding when the right time to move to the cloud might be is a smart first step. There are three typical inflection points: when you're adding new applications, moving or opening a new office, or in need of an IT refresh. But even if you're not under any of those circumstances, there are a lot of motivating factors (keep reading).

Cost Containment. You may not always be able to reduce the cost of IT in the long-run with the cloud (depends on your firm's size and scope), but you will have a predictable budget to work with, which means you can contain costs and create greater predictability and smoother, linear cash flows. As an added bonus, you can better allocate funds to other strategic projects and areas more directly relevant to the business mission. Even within the IT discipline, instead of spending time on mundane, daily operation of commodity IT resources, the firm can focus on proprietary application development, application integration, cyber security protections or other strategic initiatives.
Categorized under: Cloud Computing Security Outsourcing Private Equity Disaster Recovery Infrastructure Trends We're Seeing