We're thrilled to share that Eze Castle Integration has won the coveted awards for Best Cloud Infrastructure Provider and Best Cyber-Security Provider in the 2016 Waters Rankings. Vinod Paul, Managing Director of Eze Castle Integration, spoke with Dan DeFrancesco, Deputy Editor of Sell-Side Technology and Waters Technology about how Eze Castle Integration differentiates itself from other cloud and security providers.

Watch Vinod's video interview below or scroll down for some quick takeaways.


Categorized under: Cloud Computing Security Outsourcing Videos And Infographics Eze Castle Milestones
As a hedge fund or investment management firm, you're juggling a lot. Hedging bets, pitching investors, running day-to-day operations – there's a lot on your plate. That's why working with an experienced cloud services provider can offer benefits beyond just infrastructure.

Let's take a look at three different ways your cloud services provider can de-stress your busy life and provide you with much needed value.
1. Free up your space.
One of the beauties of a cloud computing environment is the near elimination of physical hardware and equipment on-site at your office. When managing your own server room or Communications (Comm.) room, you are responsible for housing a variety of equipment such as servers, UPS units, networking equipment and cables, spare parts, etc. Not to mention you need the real estate for it all. And don't forget – much of this equipment runs on a three-year refresh cycle, which means you'll have to upgrade everything in the near future.

Categorized under: Cloud Computing Outsourcing
If you're one of the seemingly few firms who has yet to make the move to the cloud, it could be for a variety of reasons. Perhaps you want to maintain total control of your IT environment. Or maybe you're waiting for a tech refresh to motivate you. Alternatively, it could be that you just haven't made the proper case to management for switching to the cloud – and many times the one who really needs convincing is the Chief Financial Officer (CFO).

If you're the Chief Technology Officer (CTO) or IT Manager, your responsibility is determining the infrastructure choices that are going to best suit operations at your firm. But those priorities may not line up exactly with those of the firm's CFO. IT doesn't always have insight into the financial ramifications of an operations decision of this magnitude. Instead they are typically focused on the other benefits including personnel reallocation, workflow efficiencies, etc.

The CFO, on the other hand, is ultimately tasked with ensuring the company's financial decisions are appropriate, and therefore, it's often advantageous to at least attempt to speak his/her language when pushing for an IT change.
Categorized under: Cloud Computing Hedge Fund Operations Outsourcing Trends We're Seeing
Today we released a new whitepaper that looks at a growing trend we are seeing -- billion dollar hedge funds and investment firms moving to the cloud. Here is a sneak peak at the paper's content as well as a video interview with Bob Guilbert on why firms should read, Why the Billion Dollar Club is Headed to the Cloud.
It's More Than Managing Money
There's more competition in financial services than ever before. Every week, new and agile boutique firms sprout up, armed with proprietary models and the right technology foundation to compete – intensely – with the major players for billions of investment dollars. Firms of every size are competing to deliver broader ranges of increasingly exotic instruments, specialized funds, and high-performance investments that deliver competitive returns to investors whose demands and expectations continue to climb.

But when it comes to performance and success in financial services, there's more to evaluate than just the hard numbers. Returns alone aren't enough. Today, savvy firms know they need to deliver more. In a post-Madoff, post-2008 world, the SEC and FINRA – and investors as well – are scrutinizing all corners of the operation. There's an increased focus on how operational risk is managed and how firms respond to greater demands for transparency. That means it's more important than ever for firms to deploy and maintain robust, scalable, and secure technology infrastructures.
Categorized under: Cloud Computing Hedge Fund Operations Infrastructure Outsourcing Trends We're Seeing Videos And Infographics
Moving to the cloud is one of our favorite topics here on Hedge IT, and there is a compelling argument for hedge funds and alternative investment firms to consider leveraging the cloud for some or all of their infrastructure. INDOS Financial, an independent Alternative Investment Fund Managers Directive (AIFMD) depository based in London is one firm that chose to utilize the private cloud for their growing firm, and we're excited to share their experience with you.
Watch the video below for an interview with Bill Prew, CEO and founder of INDOS Financial, as he talks about selecting the right technology infrastructure for his firm's increasing demands.
Categorized under: Cloud Computing Infrastructure Outsourcing Videos And Infographics
Have you been enamored by the coverage of the Winter Olympics the last two weeks? We sure have. And watching all of these great sports we don't normally get the chance to witness got us thinking – there are a lot of similarities between technology and Olympic sports. They're both complex in many ways and require experts (engineers and athletes) who are the best of the best at what they do.


One of our favorite sports to watch is curling. And we couldn't help but notice that Olympic curling and the private cloud are a lot alike. Don't believe us? Take a look.
Both are safe and secure.
Let's be honest: curling clearly presents the least amount of danger and lowest risk for injury at the Winter Olympics. Skiing and snowboarding? We've seen our fair share of wipeouts this year. Bobsled, luge and skeleton? Those are terrifying enough just as a spectator. Even figure skating poses a risk when skaters are leaping and twizzling left and right.

But curling? Extremely safe. Athletes can be fairly certain – whether they are curling or sweeping – that they will come out of the event unscathed.
Categorized under: Cloud Computing Launching A Hedge Fund Security Outsourcing Trends We're Seeing
They say a picture is worth a thousand words so here is an infographic of our 2013 Global Hedge Fund Technology Benchmark Study that explores the most common front, middle and back office applications and technology used at today's hedge funds.


Categorized under: Videos And Infographics Communications Hedge Fund Operations Infrastructure Launching A Hedge Fund Outsourcing Software Trends We're Seeing
Data center facilities are at the heart of any cloud offering and, as such, are getting more scrutiny as hedge funds evaluate who the right cloud provider is for them.

Earlier this year we created a pretty infograpic that mapped what firms should look for in a colocation facility. Remember this?
Since not everyone loves infograpics, we decided to spell out what we look for in a colocation facility. Our due diligence is extensive, but here are some of the high points.
Ownership, Operation & Support: Eze Castle Integration seeks a colocation facility that is owned and operated by a reputable organization with vast industry knowledge and experience. Additionally, the personnel and client support must be of the highest quality in order to ensure that all Eze Castle colocation clients receive the best service and support possible.

Categorized under: Cloud Computing Infrastructure Outsourcing Videos And Infographics
Like David bravely dueling with the larger Goliath, small and mid-sized investment firms are often faced with insurmountable odds when competing against larger (and better endowed) funds. With more experience and more assets, larger firms have the advantage when it comes to soliciting investor allocations. But do these inherent shortcomings equal certain failure? If David can emerge victorious, can't smaller hedge funds?

Earlier this week, we gathered a panel of experts in San Francisco to discuss this topic at length. Following is a brief synopsis of the topics they covered.
Categorized under: Hedge Fund Operations Cloud Computing Hedge Fund Due Diligence Infrastructure Launching A Hedge Fund Outsourcing Real Estate Trends We're Seeing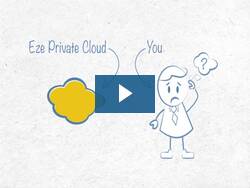 Cloud computing is becoming a standard IT deployment method for the investment management industry. In fact, our 2012 survey found that 8 in 10 investment management firms are either currently or planning to use a cloud service. So once a hedge fund or alternative decides to go cloud the next question is "why go Eze Private Cloud?"

Well, we have the perfect answer to that, and you can have it in just 60-seconds. Watch our quick video and learn why Eze Private Cloud is the investment industry standard for cloud services.



Categorized under: Cloud Computing Eze Castle Milestones Infrastructure Launching A Hedge Fund Outsourcing Trends We're Seeing Videos And Infographics