As a hedge fund or investment management firm, you're juggling a lot. Hedging bets, pitching investors, running day-to-day operations – there's a lot on your plate. That's why working with an experienced cloud services provider can offer benefits beyond just infrastructure.

Let's take a look at three different ways your cloud services provider can de-stress your busy life and provide you with much needed value.
1. Free up your space.
One of the beauties of a cloud computing environment is the near elimination of physical hardware and equipment on-site at your office. When managing your own server room or Communications (Comm.) room, you are responsible for housing a variety of equipment such as servers, UPS units, networking equipment and cables, spare parts, etc. Not to mention you need the real estate for it all. And don't forget – much of this equipment runs on a three-year refresh cycle, which means you'll have to upgrade everything in the near future.


Data center facilities are at the heart of any cloud offering and, as such, are getting more scrutiny as hedge funds evaluate who the right cloud provider is for them.

Earlier this year we created a pretty infograpic that mapped what firms should look for in a colocation facility. Remember this?
Since not everyone loves infograpics, we decided to spell out what we look for in a colocation facility. Our due diligence is extensive, but here are some of the high points.
Ownership, Operation & Support: Eze Castle Integration seeks a colocation facility that is owned and operated by a reputable organization with vast industry knowledge and experience. Additionally, the personnel and client support must be of the highest quality in order to ensure that all Eze Castle colocation clients receive the best service and support possible.

Categorized under:
After reading (and enjoying) one too many "you know you're [insert age/town/job] if you're [insert something funny]" articles, we decided to have a little fun with our favorite technology topic – the cloud (surprise!).

So, here is how I envision life as a cloud.
I wouldn't care what I consumed because scalability would be one of my greatest traits. You might even catch me yelling, "More, more, more…"
Categorized under:
Are you like one of the millions of people pondering the answer to 'what is hypervisor-based replication and how will it change my disaster recovery approach'? I know I was.

So, let me help you with that!

Our technology experts here at Eze Castle Integration spent some time in the lab testing and evaluating hypervisor-based replication and recently incorporated it into our Eze Disaster Recovery 2.0 offering. We think it delivers excellent benefits, but let's start with the basics.
What is hypervisor-based replication?
TechTarget defines hypervisor-based replication as "a technology that automatically creates and maintains replicas of virtual hard disks or entire virtual machines (depending on the platform that is being used)." Analyst firm IDC goes on to say that this replication approach "protects virtual machines (VMs) at the virtual machine disk format file level rather than at the LUN or storage volume level, thus replication can be done without the management and TCO challenges associated with array-based replication."

Categorized under:
Like David bravely dueling with the larger Goliath, small and mid-sized investment firms are often faced with insurmountable odds when competing against larger (and better endowed) funds. With more experience and more assets, larger firms have the advantage when it comes to soliciting investor allocations. But do these inherent shortcomings equal certain failure? If David can emerge victorious, can't smaller hedge funds?

Earlier this week, we gathered a panel of experts in San Francisco to discuss this topic at length. Following is a brief synopsis of the topics they covered.
Categorized under:
You may have heard of it – the newest social media app that's sweeping the 18-25 year old demographic – Snapchat. But what is it, and how could the technology behind it affect the business world?

Snapchat is a photo messaging application in which users can take photos or record short videos on their smartphones, then add text or drawing and send them to select contacts. When sending the content, users have the ability to set a time limit for how long the recipients can view it (up to 10 seconds), after which the photo or video will disappear from the recipient's device.

Here's a recent Snapchat ad that depicts how the app is used:
Categorized under: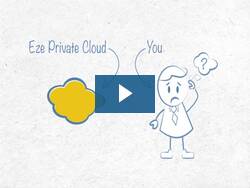 Cloud computing is becoming a standard IT deployment method for the investment management industry. In fact, our 2012 survey found that 8 in 10 investment management firms are either currently or planning to use a cloud service. So once a hedge fund or alternative decides to go cloud the next question is "why go Eze Private Cloud?"

Well, we have the perfect answer to that, and you can have it in just 60-seconds. Watch our quick video and learn why Eze Private Cloud is the investment industry standard for cloud services.



Categorized under:
On 19th March, the Eze Castle Integration team in London hosted their first-ever Hedge Fund Cloud Summit at the Prince Philip House.

Eze Castle Integration along with leading experts in the financial services industry - INDOS Financial Limited, Morgan Stanley Prime Brokerage, Bloomberg, Credit Suisse Prime Services, Lucidus Capital Partners LLP, Portman Square, LLP, eSentire, Global Relay, and Simmons & Simmons - came together to provide a half day educational seminar featuring a wealth of information on the cloud to over 100 hedge fund and alternative investments firms.
Categorized under:
Today, we're excited be hosting the 2013 London Hedge Fund Cloud Summit at the Prince Philip House in London. The event features a variety of industry experts participating in thought-provoking panel disccussions focused on the cloud adoption trends shaping the investment industry. Conversations will touch on everything from the differences between public and private clouds to cloud security and application hosting.

In honor of this event and to provide a visual to help encapsulate the many benefits that come from leveraging a private cloud, we have published a new infographic entitled "You Might be a Private Cloud User If…" Check it out to see the top 10 signs that you are likely a private cloud user. For more information and details on the 2013 London Hedge Fund Cloud Summit please visit the event page. Also, be sure to look out for a recap of the event here on the Hedge IT blog next week!
Categorized under:
Yesterday our VP of client technology, Steve Schoener, presented on a California Hedge Fund Association webinar about building an institutional infrastructure at today's hedge funds. A lofty topic (so consider this a basic primer), Steve focused on four key discussion areas, which we'll recap here. They were:
Investor Expectations of IT

On-premise & Cloud solutions: Which is right?

Security Risks & Best Practices

Disaster Recovery How-Tos
You can watch the 30-minute webinar now or keep reading below.
Categorized under: