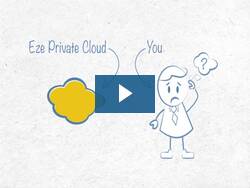 Cloud computing is becoming a standard IT deployment method for the investment management industry. In fact, our 2012 survey found that 8 in 10 investment management firms are either currently or planning to use a cloud service. So once a hedge fund or alternative decides to go cloud the next question is "why go Eze Private Cloud?"

Well, we have the perfect answer to that, and you can have it in just 60-seconds. Watch our quick video and learn why Eze Private Cloud is the investment industry standard for cloud services.



Categorized under:
On 19th March, the Eze Castle Integration team in London hosted their first-ever Hedge Fund Cloud Summit at the Prince Philip House.

Eze Castle Integration along with leading experts in the financial services industry - INDOS Financial Limited, Morgan Stanley Prime Brokerage, Bloomberg, Credit Suisse Prime Services, Lucidus Capital Partners LLP, Portman Square, LLP, eSentire, Global Relay, and Simmons & Simmons - came together to provide a half day educational seminar featuring a wealth of information on the cloud to over 100 hedge fund and alternative investments firms.
Categorized under:
Today, we're excited be hosting the 2013 London Hedge Fund Cloud Summit at the Prince Philip House in London. The event features a variety of industry experts participating in thought-provoking panel disccussions focused on the cloud adoption trends shaping the investment industry. Conversations will touch on everything from the differences between public and private clouds to cloud security and application hosting.

In honor of this event and to provide a visual to help encapsulate the many benefits that come from leveraging a private cloud, we have published a new infographic entitled "You Might be a Private Cloud User If…" Check it out to see the top 10 signs that you are likely a private cloud user. For more information and details on the 2013 London Hedge Fund Cloud Summit please visit the event page. Also, be sure to look out for a recap of the event here on the Hedge IT blog next week!
Categorized under:
Yesterday our VP of client technology, Steve Schoener, presented on a California Hedge Fund Association webinar about building an institutional infrastructure at today's hedge funds. A lofty topic (so consider this a basic primer), Steve focused on four key discussion areas, which we'll recap here. They were:
Investor Expectations of IT

On-premise & Cloud solutions: Which is right?

Security Risks & Best Practices

Disaster Recovery How-Tos
You can watch the 30-minute webinar now or keep reading below.
Categorized under:
Last year, Eze Castle Integration expanded their award winning Eze Private Cloud services to Asia. The Eze Private Cloud is used by more than 2,000 hedge fund professionals worldwide to simplify operations, minimise upfront capital costs and gain a highly resilient, enterprise-grade IT infrastructure on par with billion-dollar funds.

I recently sat down with Serge Bukhar, Executive Director of International Operations at Eze Castle Integration, to talk about the hedge fund market in Asia, and the attitude and adoption of cloud computing.
What is the current state of the hedge fund industry in Asia?
Singapore and Hong Kong are the hedge fund capitals in Asia. We have seen a contrast between the status of large and small hedge funds in Asia. Many larger funds are struggling, with some shutting down, while smaller funds are increasingly doing well and delivering positive results to their investors. Both groups, however, are looking for ways to increase efficiencies and reduce costs.
Categorized under:
It's hard to believe it, but we have officially reached the 300th post here on the Hedge IT blog!

To commemorate this special occasion, we're bringing back the Hedge IT blog awards honoring the best articles, topics and trends from the past year as a way of saying "thanks" to all of our loyal readers. We look forward to continuing this tradition of sharing valuable, thought provoking content with you again this year. Here's to the next 100 posts!

Enjoy!
Categorized under:
Here on the Hedge IT blog, we love to talk about the cloud. However, most of our discussions focus on the technology and operational considerations for investment firms. This week, we're taking a different approach and looking at the cloud from a business perspective. On Tuesday we explored the business case for moving to the cloud. Today, we're taking the CFO's point of view.

You're a hedge fund CFO. Your CTO has proposed moving the organization's IT infrastructure to the cloud using a third party service provider. What questions should you ask to gain a better understanding of the impact this change could have on your team and the firm at large?
Categorized under:
While the technology benefits of moving to the cloud are well known, the business case for moving to the cloud is just as important. The hedge fund industry is increasingly moving towards cloud computing not only for the vast technology benefits, but also for the enhanced efficiencies, high quality technology environment, and numerous cost savings. Read on to learn the business case for adopting cloud computing technology at your firm.


Transferring from CapEx to OpEx
Today, many hedge funds are grappling with ways to achieve efficient operations while remaining as competitive as possible. Companies are examining the costs associated with their IT departments in order to determine the best way to make their technology more cost effective. For many firms, this means moving to the cloud. One of the major benefits of adopting cloud computing technology is the resulting movement from CapEx to OpEx.

This shift allows a decrease in capital expenditures (CapEx) and an increase in operational expenses (OpEx), providing potential tax benefits. The tax benefit is the result of OpEx allowing for the deduction of expenses in the current year and the cutting of tax liability applied to net income. Furthermore, there are few upfront capital expenditures associated with adopting a cloud model as there with building out in-house comm rooms and data centers. This is because cloud providers deploy a "pay-as-you-go" service model.

Categorized under:
This fall, Microsoft's new Windows 8 operating system captured the attention of many customers. Windows 8, however, isn't the only Microsoft change 2013 will bring. Microsoft is planning to provide stricter oversight of its auditing process by conducting up to 30,000 licensing audits on small to midsize companies by 2014. Here is an overview of why you should ensure that your software is up to date and what to expect when it comes to the Microsoft licensing audits.

What are the Microsoft Licensing ​Audits?
In 2013, Microsoft will conduct audits on customers' software usage. The audits will be mainly focused on mid-size companies with 500 - 2,000 computers. Many large companies have already put strict companywide licensing policies in place, but smaller firms typically have less formalized processes for ensuring all devices are licensed appropriately. As a result, Microsoft's auditing focus is shifting to smaller companies. These audits will ensure that clients' software is correctly licensed and paid for.
Categorized under:
The latest HFR Global Hedge Fund Industry Report found that hedge fund assets increased by $60 billion in the fourth quarter of 2012, bringing total industry capital to a record $2.25 trillion. With hedge funds posting performance gains and the new year upon us, we expect to see new hedge fund launches take off.

Technology is just one of the many areas to consider when starting a hedge fund. To help jump start the process, below is a list of some commonly asked questions we receive.
Where do I start in creating a technology budget for my hedge fund?
It is important to note that whether a firm selects to go with an in-house IT solution or cloud computing there will be implications on technology budgeting. Once in-house versus cloud is evaluated, it is important to think about the workflows and systems you use to complete your work – be it email, reports, phones, market vendor applications, and/or risk systems. You can find a technology budgeting worksheet here to help with your planning.
Categorized under: