Yesterday, we hosted a webinar on business continuity best practices, featuring Eze Castle Integration's own business continuity experts: Lisa Smith, a Certified Business Continuity Planner and Manager of Business Continuity and Data Privacy, and Katharine Washburn, Business Continuity and Data Privacy Coordinator. The presentation covered everything from developing business continuity best practices to ensuring that a company's employees are personally prepared. Read on for a quick recap of everything covered during the event.
Business Continuity Planning
Although many companies recognize the importance of crafting an effective business continuity plan, few actually feel that they have prepared one adequately. According to Continuity Compliance, while 70% of businesses have created a robust business continuity and emergency response plan, only 25% have also accounted for human resiliency. Furthermore, a recent survey commissioned by the Ad Council found that only 17% of the 60% of Americans that feel preparation for natural or man-made disasters is essential consider themselves to be very prepared for an emergency situation.
Categorized under: Business Continuity Planning Disaster Recovery Trends We're Seeing
VMware, the original virtualization company, is continuing to evolve as virtualization technology heads towards the commodity department. The company's newest push is around the concept of End-User Computing.

With its end-user computing products and strategy, VMware is aiming to give IT the tools and means to transform "siloed desktops, applications, and data into centrally managed IT services, delivered to end-users securely, on the device of their choice." This means allowing IT to centrally set policies, encrypt data, ensure corporate governance is followed and do much more on all devices a user may use.


Categorized under: Cloud Computing Infrastructure Trends We're Seeing
In honor of the mobile phone turning 40 years old this week, today's post is on the BlackBerry Z10. (BTW: did you know the first mobile phone weighed 2.5 pounds and took 10 hours to charge?!)

Back to the topic at hand. In January, when the BlackBerry Z10 was just officially unveiled, we took a look at the bells and whistles available on the device (Read: BlackBerry's Reinvention: A look at BlackBerry Z10). And now that the BlackBerry Z10 is available in over 35 countries, by all accounts it is just what the company needs if they have any hope of taking back market share from iPhone and Android makers.

As part of its promotional push, BlackBerry is even letting iPhone and Android users test drive the new operating system by pointing their mobile browsers to BlackBerry.com/glimpse.
Categorized under: Communications Eze Castle Milestones Infrastructure Launching A Hedge Fund Trends We're Seeing
Historically, financial services firms have not been the most active group in the social media sphere. In a 2011 survey of hedge fund managers conducted by MHP Communications, only 1% of firms were active participants on Twitter, and none of the managers surveyed were active on Facebook. More recently, however, the tides have begun to change. Following Goldman Sachs' entrance into the Twitterverse in May 2012, investment management firms and their employees have started to increase their social media participation. With this growing trend comes the added layer of social media compliance with industry legislation.

The Legal Perspective
According to the SEC's Rule 17a-4(b), registered investment advisers and broker-dealers should archive all business communications on social media for a minimum of three years. As the frequency of discovery audits continues to rise, firms should ensure these communications are easily searchable and can be recovered quickly in the event of an SEC inquiry.
Categorized under: Trends We're Seeing Hedge Fund Regulation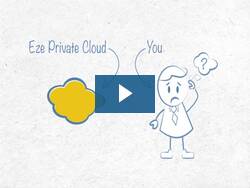 Cloud computing is becoming a standard IT deployment method for the investment management industry. In fact, our 2012 survey found that 8 in 10 investment management firms are either currently or planning to use a cloud service. So once a hedge fund or alternative decides to go cloud the next question is "why go Eze Private Cloud?"

Well, we have the perfect answer to that, and you can have it in just 60-seconds. Watch our quick video and learn why Eze Private Cloud is the investment industry standard for cloud services.



Categorized under: Cloud Computing Eze Castle Milestones Infrastructure Launching A Hedge Fund Outsourcing Trends We're Seeing Videos And Infographics
On 19th March, the Eze Castle Integration team in London hosted their first-ever Hedge Fund Cloud Summit at the Prince Philip House.

Eze Castle Integration along with leading experts in the financial services industry - INDOS Financial Limited, Morgan Stanley Prime Brokerage, Bloomberg, Credit Suisse Prime Services, Lucidus Capital Partners LLP, Portman Square, LLP, eSentire, Global Relay, and Simmons & Simmons - came together to provide a half day educational seminar featuring a wealth of information on the cloud to over 100 hedge fund and alternative investments firms.
Categorized under: Cloud Computing Infrastructure Outsourcing Security Trends We're Seeing
Last week, we hosted a webinar with eSentire on best practices for managing security risks. eSentire is the leading managed security service vendor protecting 25% of the global hedge fund market by AuM. During the webinar, the company's director of marketing, Mark Sangster, and our own vice president of client technology, Steve Schoener, explored topics including the scope of cyber threats, the anatomy of a cyber attack, continuous security monitoring and security policies and procedures for hedge funds to consider. Read on for a full recap of the information covered during the event.
Categorized under: Security Disaster Recovery Hedge Fund Due Diligence Hedge Fund Operations Privacy Compliance Trends We're Seeing
Today, we're excited be hosting the 2013 London Hedge Fund Cloud Summit at the Prince Philip House in London. The event features a variety of industry experts participating in thought-provoking panel disccussions focused on the cloud adoption trends shaping the investment industry. Conversations will touch on everything from the differences between public and private clouds to cloud security and application hosting.

In honor of this event and to provide a visual to help encapsulate the many benefits that come from leveraging a private cloud, we have published a new infographic entitled "You Might be a Private Cloud User If…" Check it out to see the top 10 signs that you are likely a private cloud user. For more information and details on the 2013 London Hedge Fund Cloud Summit please visit the event page. Also, be sure to look out for a recap of the event here on the Hedge IT blog next week!
Categorized under: Cloud Computing Eze Castle Milestones Hedge Fund Due Diligence Hedge Fund Operations Hedge Fund Regulation Launching A Hedge Fund Trends We're Seeing Videos And Infographics
Yesterday our VP of client technology, Steve Schoener, presented on a California Hedge Fund Association webinar about building an institutional infrastructure at today's hedge funds. A lofty topic (so consider this a basic primer), Steve focused on four key discussion areas, which we'll recap here. They were:
Investor Expectations of IT

On-premise & Cloud solutions: Which is right?

Security Risks & Best Practices

Disaster Recovery How-Tos
You can watch the 30-minute webinar now or keep reading below.
Categorized under: Infrastructure Cloud Computing Hedge Fund Due Diligence Hedge Fund Operations Launching A Hedge Fund Outsourcing Security Trends We're Seeing
As you're probably aware, the topic of cybersecurity has been splashed prominently across headlines lately. Earlier today, the US director of national intelligence, James Clapper, identified cybersecurity as the top global threat – even more treacherous than terrorism.


In his testimony before the Senate Intelligence Committee, Clapper cited several attacks on banking websites where sensitive customer data was compromised, as well as a security breach at an oil company that resulted in the destruction of 30,000 computers. If hackers are capable of such large-scale, damaging attacks, could investment management firms be at risk? What should you be doing to better protect your firm's critical systems and data?

The truth is both large, well-established hedge funds and smaller startups are equally at risk of intrusion. Hackers may target large firms because they see an opportunity to profit from their substantial asset pools. Additionally, they might be after the notoriety associated with successfully hacking a well-known fund's critical systems, especially in cases that will likely garner media attention. For smaller funds, hackers are likely after intellectual property, namely business plans, market forecasts and investment strategies.
Categorized under: Security Data Loss Prevention Hedge Fund Operations Trends We're Seeing
Recent Posts
Categories
Archives