Data center facilities are at the heart of any cloud offering and, as such, are getting more scrutiny as hedge funds evaluate who the right cloud provider is for them.

Earlier this year we created a pretty infograpic that mapped what firms should look for in a colocation facility. Remember this?
Since not everyone loves infograpics, we decided to spell out what we look for in a colocation facility. Our due diligence is extensive, but here are some of the high points.
Ownership, Operation & Support: Eze Castle Integration seeks a colocation facility that is owned and operated by a reputable organization with vast industry knowledge and experience. Additionally, the personnel and client support must be of the highest quality in order to ensure that all Eze Castle colocation clients receive the best service and support possible.

Categorized under: Cloud Computing Infrastructure Outsourcing Videos And Infographics
This week Opalesque Radio featured an interview with Bob Guilbert, managing director here at Eze Castle Integration, on addressing operational challenges facing hedge funds with cloud solutions.
The 9:30-minute podcast covers a range of topics. You can listen to the full podcast HERE, just jump to the sub-features that interest you most below.


Categorized under: Cloud Computing Disaster Recovery Eze Castle Milestones Hedge Fund Operations Launching A Hedge Fund Trends We're Seeing Videos And Infographics
After reading (and enjoying) one too many "you know you're [insert age/town/job] if you're [insert something funny]" articles, we decided to have a little fun with our favorite technology topic – the cloud (surprise!).

So, here is how I envision life as a cloud.
I wouldn't care what I consumed because scalability would be one of my greatest traits. You might even catch me yelling, "More, more, more…"
Categorized under: Cloud Computing Trends We're Seeing Videos And Infographics
Psssst.


Do you want the inside scoop on how and why your investment firm peers are using the cloud? We're in the know.

Check out our infographic for a sneak peek at the results of our 2013 survey: Examining Cloud Usage within the Investment Management Industry. Next week, we'll share a more detailed recap of the findings. If, of course, you can't bear to wait until next week, you can download our full survey report here.

Enjoy peeking!
Categorized under: Cloud Computing Disaster Recovery Hedge Fund Operations Infrastructure Launching A Hedge Fund Outsourcing Security Trends We're Seeing Videos And Infographics
Every once and a while we like to deviate from our business technology and operations articles to look at a new technology that has applicability to consumers as well as businesses. Today we look at the newly released MixBit, which in all honesty, is more applicable to consumers at this point.
MixBit was created by the founders of YouTube and just released today for iOS. MixBit fills the void (if you can call it that) between Vine and Instagram Video. With Vine videos can only be 6-seconds and with Instagram they can be 15-seconds.
MixBit not only takes the bold step of increasing the size to 16-seconds but also makes blending multiple clips together easy.
Aside from the 1 second advantage, MixBit is unique in its ability to let users remix video clips with others they find on the site.

To see what MixBit can do, I created this 16 second "tour" of our Boston office. Nothing fancy, but certainly user-friendly.
Categorized under: Trends We're Seeing Hedge Fund Marketing Videos And Infographics
This month, Eze Castle turns 18! The company, founded in 1995 by childhood neighbors John Cahaly and Sean McLaughlin, has grown into a global technology operation with offices in the United States, Europe, and Asia. In honor of the Castle's (that's our little nickname for ourselves) 18th birthday, let's take a look at 18 fun facts highlighting not only our successes on a company level, but those of the wonderful employees who make it all possible.
Categorized under: Trends We're Seeing Videos And Infographics
As your firm considers whether a cloud-based infrastructure or on-premise environment is best suited to meet your business needs, another interesting alternative to consider is colocation.

Colocation allows firms to house their computing, network, storage and IT equipment in a fully managed facility. This allows the organization to maintain ownership over the infrastructure while feeling confident that it is highly secure, redundant and monitored around-the-clock by experienced professionals.

If you determine that colocation is a viable option for your firm, you're next step will be to select a provider and facility. Depending on your geographic location, there may be several options to choose from.

To help you get started with this process, we've developed an infographic outlining the key criteria to use when evaluating potential colocation facilities and services.
Categorized under: Infrastructure Hedge Fund Operations Videos And Infographics
We hosted a webinar earlier this week, App Hosting 101: Managing Your Essential Applications in the Cloud, in which Steve Schoener, Eze Castle Integration's Vice President of Client Technology, and Martin Sreba, Senior Director at Advent Software, discussed topics such as industry trends in application hosting, key drivers of application solutions, common myths about the cloud, and the right time to put an application into effect. Continue reading for an overview of the webinar.
Industry Update: What's Going On?
Increasing demands from hedge funds' current and target investors are driving a variety of trends. Due diligence requirements are more advanced, as investors expect to see candid looks into a fund's systems, disaster recovery capabilities and more. The increasing complexity of investments is also driving the need for more complex systems to handle these instruments.

Firms are starting smaller in today's environment, with many starting with under $100mm in assets under management. Startup funds are looking for technology solutions to complement their size and give them the tools to efficiently run their businesses.
Categorized under: Cloud Computing Hedge Fund Due Diligence Hedge Fund Operations Infrastructure Launching A Hedge Fund Software Trends We're Seeing Videos And Infographics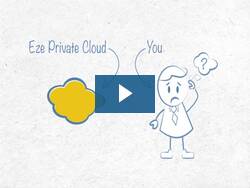 Cloud computing is becoming a standard IT deployment method for the investment management industry. In fact, our 2012 survey found that 8 in 10 investment management firms are either currently or planning to use a cloud service. So once a hedge fund or alternative decides to go cloud the next question is "why go Eze Private Cloud?"

Well, we have the perfect answer to that, and you can have it in just 60-seconds. Watch our quick video and learn why Eze Private Cloud is the investment industry standard for cloud services.



Categorized under: Cloud Computing Eze Castle Milestones Infrastructure Launching A Hedge Fund Outsourcing Trends We're Seeing Videos And Infographics
Today, we're excited be hosting the 2013 London Hedge Fund Cloud Summit at the Prince Philip House in London. The event features a variety of industry experts participating in thought-provoking panel disccussions focused on the cloud adoption trends shaping the investment industry. Conversations will touch on everything from the differences between public and private clouds to cloud security and application hosting.

In honor of this event and to provide a visual to help encapsulate the many benefits that come from leveraging a private cloud, we have published a new infographic entitled "You Might be a Private Cloud User If…" Check it out to see the top 10 signs that you are likely a private cloud user. For more information and details on the 2013 London Hedge Fund Cloud Summit please visit the event page. Also, be sure to look out for a recap of the event here on the Hedge IT blog next week!
Categorized under: Cloud Computing Eze Castle Milestones Hedge Fund Due Diligence Hedge Fund Operations Hedge Fund Regulation Launching A Hedge Fund Trends We're Seeing Videos And Infographics
Recent Posts
Categories
Archives