Last week, Zerto (a provider of virtual replication technology) invited Eze Castle's Steve Schoener to discuss trends in cloud disaster recovery with a focus on replication. During the webinar Steve and Jennifer Gill (product marketing at Zerto) discussed different DR approaches, namely virtual replication, that can help companies:
Reduce hardware and networking costs

Increase the benefits of virtualization

Support aggressive service levels with RPOs of seconds and RTOs of minutes

Leverage a simple product or a simple service for simple disaster recovery
You can check out the entire discussion below.

Categorized under: Disaster Recovery
Yesterday, we hosted a webinar on business continuity best practices, featuring Eze Castle Integration's own business continuity experts: Lisa Smith, a Certified Business Continuity Planner and Manager of Business Continuity and Data Privacy, and Katharine Washburn, Business Continuity and Data Privacy Coordinator. The presentation covered everything from developing business continuity best practices to ensuring that a company's employees are personally prepared. Read on for a quick recap of everything covered during the event.
Business Continuity Planning
Although many companies recognize the importance of crafting an effective business continuity plan, few actually feel that they have prepared one adequately. According to Continuity Compliance, while 70% of businesses have created a robust business continuity and emergency response plan, only 25% have also accounted for human resiliency. Furthermore, a recent survey commissioned by the Ad Council found that only 17% of the 60% of Americans that feel preparation for natural or man-made disasters is essential consider themselves to be very prepared for an emergency situation.
Categorized under: Business Continuity Planning Disaster Recovery Trends We're Seeing
Last week, we hosted a webinar with eSentire on best practices for managing security risks. eSentire is the leading managed security service vendor protecting 25% of the global hedge fund market by AuM. During the webinar, the company's director of marketing, Mark Sangster, and our own vice president of client technology, Steve Schoener, explored topics including the scope of cyber threats, the anatomy of a cyber attack, continuous security monitoring and security policies and procedures for hedge funds to consider. Read on for a full recap of the information covered during the event.
Categorized under: Security Disaster Recovery Hedge Fund Due Diligence Hedge Fund Operations Privacy Compliance Trends We're Seeing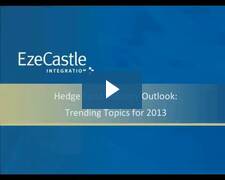 Last week, we hosted a webinar on the Hedge Fund Industry Outlook for 2013 with speakers Deborah Prutzman, CEO of the Regulatory Fundamentals Group, and Mary Beth Hamilton of Eze Castle Integration. Following is a recap of the key topics discussed around operational due diligence, regulations and technology trends.

Insights from Deborah Prutzman, Regulatory Fundamentals Group
2012 was a year marked with significant regulatory changes in the world of investment management. So far, we're expecting to see more of the same in 2013. This time, the direction and manner of change will likely be more predictable. Some important themes we expect will permeate throughout the year include:
Categorized under: Hedge Fund Operations Disaster Recovery Hedge Fund Due Diligence Hedge Fund Regulation Launching A Hedge Fund Trends We're Seeing
The Center for Disease Control (CDC) has reported high activity levels of Flu cases in 24 states, and the illness is spreading at a much more rapid rate this year than in previous winters.

So, what does this mean for investment firms? It is now more important than ever to ensure your firm can and will remain functional if it is affected by this outbreak or, worse, a pandemic. Business leaders must be mindful of the repercussions of the virus, as a decrease in staff could cause a great strain on the firm and potentially costly downtime.

We asked our Business Continuity Planning experts to give 10 tips on keeping your firm up and operational during Flu season. Watch and learn.
Categorized under: Business Continuity Planning Disaster Recovery Hedge Fund Operations Trends We're Seeing
In the wake of Hurricane Sandy, many hedge funds and investment firms in the Northeast region took account of their firms' operations and assessed the aftermath. Business continuity plans and disaster recovery procedures were undoubtedly put to the test as power outages and flooding wreaked havoc on the area. In a previous Hedge IT post, we discussed many of the lessons that fund managers took away from this experience. Today we're taking an even closer look at how investment firms fared during the disaster, as agencies such as the SEC and FINRA are now conducting in-depth examinations of many such organizations.

These post-Sandy investigations are being conducted on several firms throughout the Northeast, and although they are not technically intended as a sweep exam, they're being used as a mechanism to gather information on the lessons that were garnered through the storm. The SEC may potentially use the responses in aggregate as a basis for implementing new BCP recommendations or guidelines in the future. Additionally, these exams aim to raise awareness about the importance of having a comprehensive business continuity plan in place and conducting regular testing.
What can you expect from an SEC/FINRA exam?
Categorized under: Business Continuity Planning Disaster Recovery Hedge Fund Regulation
Do you know the difference between a disaster recovery (DR) system and a business continuity plan (BCP)? Does your firm employ one or both of them? Some funds think if they have one system in place, they don't need the other. Our team of Mythbusters recently set out to determine if a firm can operate successfully with a disaster recovery plan but not a business continuity plan. Take a look at our brand new video, and find out!
Categorized under: Business Continuity Planning Disaster Recovery
Here we are again – at the end of another year and recapping some of the best and most popular posts from the Hedge IT Blog in 2012. This year, we spent a lot of time talking about cloud computing, security, and disaster recovery, among other topics.


As always, we welcome your feedback and would love to hear your suggestions for future articles on Hedge IT. In the meantime, we'll continue to bring you new and interesting posts related to all of your favorite hedge fund technology topics.

At last, here is a recap of our most popular blog articles of 2012:
This year, we undertook a research study surveying 130 hedge funds and alternative investment firms in regards to their adoption of cloud technology. The results revealed that more than eight out of ten investment firms are either currently using or planning to use cloud computing services in the near future. This shift towards the cloud signifies a major trend in the financial services space as firms look to move away from costly on-premise technology infrastructures. You can download the complete survey report here.
Categorized under: Cloud Computing Business Continuity Planning Disaster Recovery Hedge Fund Due Diligence Hedge Fund Operations Hedge Fund Regulation Help Desk Infrastructure Outsourcing Security Trends We're Seeing
On 20th November, the Eze Castle Integration team in London hosted a joint breakfast seminar with Simmons & Simmons looking at future IT and employment considerations for hedge fund managers.

We know building a hedge fund post successful launch is a challenging experience and requires a methodical approach and expert guidance. There are many factors to manage post launch including continuing capital raising, fulfilling investors' performance and reporting expectations, meeting regulatory requirements and keeping technology systems running at peak levels.

You can watch a replay of the seminar here.
Categorized under: Cloud Computing Business Continuity Planning Data Loss Prevention Disaster Recovery Hedge Fund Due Diligence Security
First and foremost, our thoughts go out to all those impacted by Hurricane Sandy, and our team is ready to assist clients as they resume business operations.

While effects were minimal here in Boston, residents and businesses in New York, New Jersey and along the East Coast are grappling with immeasurable damage as a result of the hurricane. US markets have closed for a second straight day, and the effects of Sandy will continue to wreak havoc on financial firms nationwide.

Over the next days and weeks companies and the media will reflect on the impact of Sandy as well as lessons learned. Therefore, today's post recaps previous Hedge IT articles focused on business continuity planning and disaster recovery. Our hope in publishing this article is to provide a handy resource for future planning.
Categorized under: Business Continuity Planning Disaster Recovery Hedge Fund Operations
Recent Posts
Categories
Archives